Send Inquiry
Liquids Fill Seal Machines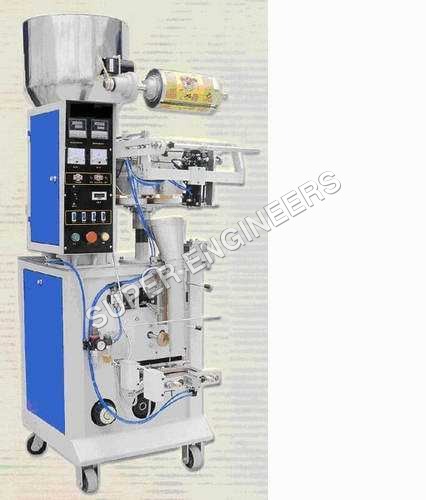 Liquids Fill Seal Machines
We are identified as one of the leading organizations, engaged in manufacturing and supplying Liquids Fill Seal Machines. Offered machines are used in food, cosmetic and pharmaceutical industry to fill liquid materials into PP and BOPP pouches. At our sound production unit, we manufacture these machines using high quality materials. The machines can seal any heat sealable pouches like polyester poly, metalized poly, aluminum foil laminated poly or paper poly laminated films. We offer these Liquids Fill Seal Machines at cost effective prices.
Features:
High operational fluency
Longer working life
Caster wheels for movement

PACKAGING RANGE

2 ml To 5 ml
5 ml To 25 ml
10 ml To 50 ml
50 ml To 250 ml
100 ml To 500 ml
200 ml To 1000 ml
PACKAGING MATERIAL
(Machine 1) Virgin films like HDPE, LDPE, Co-Extruded films.
(Machine 2) Any heat sealable laminated films(Polyester Poly,Metalised Poly, Aluminium Foil laminated poly,Paper Poly etc.) BOPP & Sealable Polyester.
SEALING TYPE
Center Seal
Three Side Seal
Four Side Seal
Gusseted Bag
SPEED OF THE MACHINE
10 to 50 packets per minute(Depending Upon Packet Size and flow of Material)
POWER CONSUMPTION
2.5 KW.
FILLING STYLE
(1) Volumetric Dosing Pump
(2) Timer based Gravity Filler
SPACE REQUIRED
1000 mm L X 600 mm W X 3000 mm H Approx.
MACHINE WEIGHT
Approx.650 kg
OPTIONAL ATTACHMENT
(1) Coding system
(2) Static Electoliser
(3) Online Heating systems
(4) Counter
(5) Transfer lines
(6) Inserting systems
Liquids Fill Seal Machines
Sachets are produced using a vertical FFS machinery to make it suitable to handle various types of semi solid pastes. Single reel film of diameter 400 mm on 76 mm core diameter to laminate stock reel feed.
Special pump with hopper on the top for product dosing
High quality stainless steel is used in parts that are in contact with the products
Pneumatic operations of sealing jaws using PLC controlled functions
For wrinkle free and hermetical sealing
A robust machine with easy maintenance, easy adjustment and highly reliable output. Sachets are separated from film web present in horizontal die through cut off blades for increased efficiency.
Comprehensive PLC based control panel and photo cell print registration
Access doors and front safety guard are locked mechanically
Easy to use manual for operators